Current status
Council intends to close the pool for 3 months from June 2022 to complete hydraulic work and pool work and the pool will re-open when this is complete. This is reliant on the appropriate consents.
During the three month closure the current building will be prepared for the new build section. The total anticipated time to complete the extension to the building is 9 months.
Why are we renovating the pool?
Council sees a need to upgrade and improve the current Hokitika Swimming Pool to a modern facility and to fulfil the needs of the community.
Funding from central Government will allow us to complete Stage 1, which is to replace core infrastructure starting in 2021. Stage 2 will include renovating the existing changing facilities and creating a new reception and entryway.
Stage 3 is subject to further external funding, and Council plans to build an extension to the pool, to include a heated toddlers or learners swimming pool.
Upgrades to the swimming pool will be staged over a three year period, with the swimming pool open during the summer months and closed during the winter for work to be done. Council offers three-monthly swimming passes.
What work have we done?
September 2021
Contractors replacing around 3000 corroded structural brackets on the swimming pool atop of Elevated Work Platforms.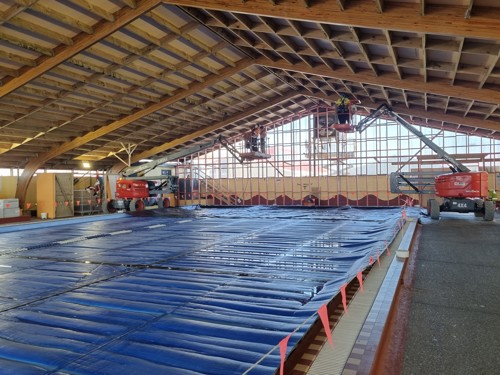 October 2021
The current timeframe is for the completion of the works to the roof, the upgrade of the fire protection system is by the end of October 2021. 
December 2021
The cladding of the exterior walls and closing in of the building was completed by the second week of November. The electrical upgrade ran alongside this with the new main distribution boards arriving in November and the power  switched over.
The HVAC, specifically the Ductsox that delivers the air to the pool hall was installed.
The pool reopened for the summer season in December 2021.
What further work do we expect to do?
Designs for the stage two refurbishment works (the changing rooms and reception area) is complete. Work on this stage will commence in 2022.
Meeting Reports and Minutes
Media Releases