Here's where you can find out more from the Government about the Three Waters Reform Programme:
Better Waste Water - Three Waters Reform Programme
Three Waters Reform Programme - dia.govt.nz
When Central Government announced the Three Waters Reform in 2020, councils were asked to participate in tranche one of the reform, which involved signing a Memorandum of Understanding (MoU) with the Crown.
All councils including Westland District Council signed a MoU, and as a result, WDC received Government funding of $6.9 million to support water supply and wastewater projects in the district.
A Request for Information (RfI) process was also required through the MoU to collect the information necessary to undertake detailed analysis to support advice on the options for reform to the Steering Committee, local government elected members and Ministers over the coming months.
This analysis allowed Central Government to understand the current state of Councils three waters related asset base and condition of the assets, the operating environment, commercial and financial arrangements and the forecast investment plans. It also helped to identify the potential impacts of reform on the local government sector relative to the status quo.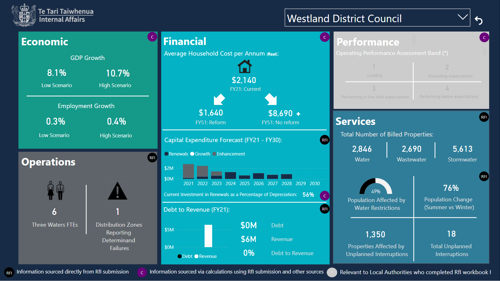 To see how these decisions would impact your household's three waters services costs, go to your Local Dashboard.
The Government and Local Government New Zealand (LGNZ) have committed to working in partnership with the local government sector not just on these reforms, but on other challenges and opportunities. This was reflected in a joint central / local government statement released by the Government and LGNZ.
Heads of Agreement – Partnering Commitment to support three waters service delivery reform 
The Government and Local Government New Zealand's joint position statement on Three Waters Reform
In mid-July the Prime Minister and Minister of Local Government announced a comprehensive $2.5 billion three waters support package.
The package has three financial components:
Support for local government to invest in communities' wellbeing. This part of the investment totals $2 billion, with $500 million being available from 1 July 2022. It will be allocated between councils according to a nationally consistent formula, reflecting population (75 per cent), deprivation (20 per cent) and land area (5 per cent).
Targeted support to ensure no councils are financially worse off as a result of transferring their three waters assets. This is designed to protect councils from any negative financial consequences of the asset transfer.
Cover of reasonable transition costs. This is intended to make sure council service delivery (including of water services) during the transition isn't compromised by the work needed to make the transition happen.
Government to provide support for water reforms, jobs and growth 
Three Waters Reform Programme – Support Package – Information and Frequently Asked Questions (FAQs) 
Westland has been allocated just over $11 million through the "Better Off" package, which is allocated to territorial authorities on the basis of a nationally consistent formula that takes into account population, relative deprivation and land area. This formula recognises the relative needs of local communities, the unique challenges facing local authorities in meeting those needs, and differences across the country in the ability to pay for those needs. Territorial authorities will be able to use this funding to support the delivery of local wellbeing outcomes associated with climate change and resilience, housing and local placemaking.
Territorial authorities are asked to consider the support package alongside the case for change the Government has presented.
Throughout August and September 2021 Westland District Council will be working with Tonkin & Taylor, and Grey and Buller District Councils, gathering and analysing information to fully understand the impact of this proposal on the Westland and West Coast communities and will provide feedback to LGNZ. It is expected the Government will release further information on these reforms in early October.
Under current legislation, councils will be required to fully consult with their communities before making a decision on whether to remain in the reforms or opt out.
It is also noted that staff who work primarily on water will be guaranteed a role at the new water service entities. This role will retain key features of their current role including salary, terms and critically – location.
During this eight-week period of analysis and consideration, LGNZ will support councils to understand what the package means for them. 
There is a commitment from all parties for the need to spend more time working through some issues that are important to all of us These are:
Ensuring all communities have both a voice in the system and influence over local decisions. This means being sure the water entities understand and act on communities' needs and wants, including responding to localised concerns like a desire for chlorine-free water.
Effective representation on the new water entities' oversight boards so that there is strong accountability to the communities they serve. This includes effective assurance that entities, which will remain in public ownership, cannot be privatised in future.
Making sure councils' plans for growth are appropriately integrated with water services planning.
16 September 2021
Feedback on the proposed reforms has now closed. Council will consider their position at the Council meeting on 30 September 2021 and provide their feedback to the Government.
Community Engagement livestreams
Livestream recordings of our Three Waters Reform - Public Engagement meetings can be viewed on our Youtube channel.
Community Engagement - Three Waters Presentation
Council Agendas
Livestream recordings of our previous meetings can be viewed on our Youtube channel.
Council Minutes
Council Media Releases
Thursday 2 September

Question

Answer

1

Why such a huge difference in the Projected average annual 3 waters costs of the Govt $8,690 and WDC of $3,105.

The DIA has used the Water Industry Commission for Scotland model, which assumes that an average household has 2.7 people and households contribute 70% to water revenue. They used these assumptions to estimate average household costs for individual local authorities and then for the amalgamated entities.

They applied a cap of $8,690 to average cost per household in 2051 if there is no reform as projecting costs over 30-years is uncertain, as well as affordability challenges to meet costs above this level. 23 of the local authorities across the country are estimated to have an average cost per household either at or above the $8,690 cap.

Effectively, DIA have determined that WDC needs to invest approximately $200 million on 3 waters, this is then converted to revenue required to fund that investment and using the above assumptions this is then used to calculate the average cost to the household.

For our figures, we have used information held internally and this is specific to WDC, whereas the Government figures are indicative assuming that all Councils are the same and in the same starting position with 3 waters assets.

The Government figures also include the need to spend $200 million on asset upgrades based whereas based on WDC information this is only approx. $54 million.

WDC figures also do not include costs that are just not known at this time, such as increased regulation.

2

I presume Stormwater is confined to Hokitika, are there only 508 ratepayers connected to this scheme?

There are  508 known CONNECTIONS (some properties have more than one connection) only within the own boundary of Hokitika.  Although every property is rated for stormwater through the Community general rate, only Hokitika has a reticulated scheme.

3

What is included in the WDC current average annual 3 water rate ($1079), I have $527.40 (water) + $410.95 (Sewage) plus what?

The government has used the average the number of households using the services to calculate the average cost. For comparative purposes, the same methodology has been applied to the number of "domestic" ratepayers. The overall average is $1,079 which is comprised of $467.75 for water, $394.37 for waste water and $275.55 for stormwater. The actual average costs in the current year vary from this, particularly for stormwater, the costs of which are spread over a higher number of ratepayers through the Community General Rate.

4

When and if the reforms do happen, we have been given a projected 2051 average 3 waters cost (govt) of $1640, What is this cost likely to be in the years leading to the year 2051?

The average costs each year have been extracted from the government's model for Entity D (who would own the water assets) which incorporates most of the South Island. The model assumes a constant increase of 1.25% each year in connected households, starting with an estimate of 324,067connected households in the entity area in 2022 and ending with an estimate of 465,055 connected households (30.3% increase). Between 2039 and 2051 the estimate average cost is constant.

So, in 2022 the average cost is estimated to be $1,171, increasing to $1,629 by 2038 and $1,642 between 2039 - 2051.
Q 4: Average cost per household as per Entity D model
| | | | | | | | | | | | | | | | | | | |
| --- | --- | --- | --- | --- | --- | --- | --- | --- | --- | --- | --- | --- | --- | --- | --- | --- | --- | --- |
|   | 2022 | 2023 | 2024 | 2025 | 2026 | 2027 | 2028 | 2029 | 2030 | 2031 | 2032 | 2033 | 2034 | 2035 | 2036 | 2037 | 2038 | 2039 - 2051 |
| Avge cost per Household | $1,171 | $1,306 | $1,405 | $1,444 | $1,469 | $1,495 | $1,507 | $1,519 | $1,531 | $1,543 | $1,555 | $1,567 | $1,579 | $1,592 | $1,604 | $1,617 | $1,629 | $1,642 |
| | | |
| --- | --- | --- |
| Monday 6 September |   |   |
| 5 | Why is Westland District Council, which I understand has no debt on its waters infrastructure, not eligible for any "no worse off" financial sustainability allocation to compensate for loss of debt headroom? | WDC forecast $12,726M debt on our water infrastructure in the LTP. How much we will be allocated from the 'no worse off' package will be determined by the due diligence process. |
| 6 | Are you aware of any specific errors you'd flag up at Westland or elsewhere?  | More work is required to understand the dashboard in relation to WDC. However, most issues appear to be around the assumptions in using the WICS model for NZ. |
| 7 | As a rural resident who is responsible for my own drinking water, storm water and sewage, under the government proposal will I have to pay the proposed fees?  | No – if you are the sole user then there is no impact |
| 8 | Do you perceive having to invest substantial funds into our current infrastructure in the coming years that will cause significant rate increases to rate payers?  | Funding for three waters investments will need to be repaid over time which will increase rates. The scale of the rates increases is dependent on the timing of the investment. |
| 9 | Is the government planning on placing a rate on to rural properties as part of the 3 waters proposal? | Please see the Rural Schemes information pamphlet. |
You can find out what other councils around New Zealand think of this reform here.