Media Release
FOR IMMEDIATE RELEASE
In preparation for the anticipated heavy rain event over the next few days, Westland District Council is making sandbags available to businesses and residents in areas of Hokitika identified as likely to be worst affected by surface flooding and cars causing bow waves.
Operations Manager Erle Bencich says, "From previous experience, the streets most likely to be affected are Revell Street along the beachfront, Tancred Street and Sewell Street. To assist people and reduce the likelihood of water entering premises, there will be pallets with sandbags available for use at the following locations:
Corner of Stafford and Sewell Streets
Corner of Hamilton and Tancred Streets
Corner of Tancred and Weld Streets
Corner of Weld and Stafford Streets.
Council is preparing at least 200 sandbags available for use, but we ask that people only take what they need to protect their properties. We also suggest that if there is surface flooding, people minimise their vehicle usage in these areas to reduce the bow waves sending water off the road and onto the pavements and surrounding premises."
Streets most likely to be affected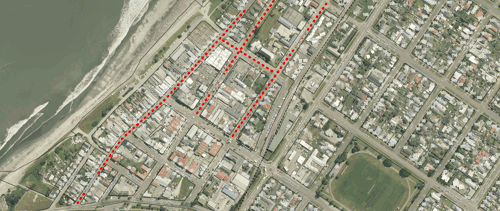 Sandbag locations