Media Release - FOR IMMEDIATE RELEASE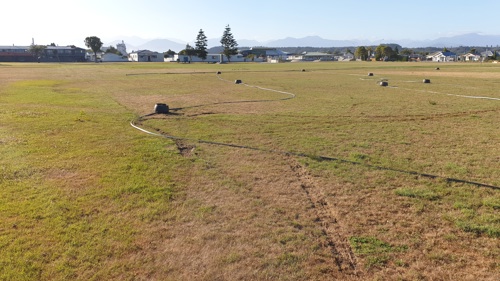 Council is very keen to hear from anyone who has information about the vandalism at Cass Square in Hokitika on Saturday, 29 January.
"We can see that at least one vehicle has been driven into the park to practise the driver's off-roading skills in Cass Square over the weekend," advises Operations Manager Erle Bencich.
"The driver has caused significant damage to the playing turf and the irrigation system that is in place to combat the current dry conditions. Unfortunately, this will cost ratepayers at least $1000 for the irrigation system. The expense will likely increase once we know what the long-term damage is. The vandalism is really disappointing as the sports field is already under stress with the unusually dry conditions. The damage will make it even harder for the surface to recover for the winter sports season and affects local cricket and rugby clubs. It might be good fun for the person causing the damage, but it's not fun for the rest of the community who have to deal with the results."
The Council has reported the vandalism to the local police, and we would really appreciate anyone who knows anything to get in contact.
ENDS
Media enquiries to:
Emma Rae, Strategy and Communications Advisor