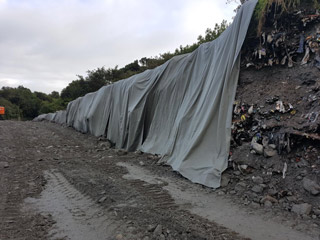 UPDATE 20 June 2019
Council remains committed to its role in
Fox River clean-up
Westland District Council is fully committed to its continued role in the clean-up of the Fox and Cook Rivers, and South Westland beaches, following the devastating March floods that washed out an old landfill in the Fox River.
Mayor Bruce Smith today welcomed the announcement from Minister of Conservation and Associate Minister for the Environment Eugenie Sage that that the Department of Conservation (DOC) will replace Westland District Council as the lead agency co-ordinating the clean-up of the riverbed and coast downstream of the council's Fox River landfill.
"The Minister notes," Smith said, "that Westland District Council will still have the responsibility for the actual landfill, ensuring no more rubbish can be eroded into the Fox River.
"We were always aware this would be something we had to manage. It was one of the reasons we sought additional Government help with the clean-up effort. In the back of our minds was that the cost of a permanent solution for the former Fox River landfill would still be borne by council. That alone might cost us something in excess of $1million in unbudgeted expenditure."
Smith said ensuring no more rubbish from the old landfill enters the Fox River will take a lot of work.
"While we have secured it against further incursion during normal high river levels, it remains vulnerable to rare extremely high floods such as seen in March.
"None of the options for permanently dealing with the site will be simple or inexpensive. Options include the complete removal of all the rubbish to another site, which would be a huge exercise. However, the remedial work we have already done buys us the time we need to decide on the best option."
Mayor Smith said he was pleased Minister Sage had acknowledged the council and volunteer effort to date.
"There has been a huge amount of work done by many organisations within our community," the Mayor said. "The council has already spent a significant amount of money following the flood emergency, supported by DOC, volunteers, local businesses and other agencies. The response to date would not have been possible without this combined effort."
In addition to working on the best option to permanently resolve the risk from the remaining former landfill, Mayor Smith said the council will support DOC with the in-river clean-up, and will continue its work with DOC to come up with a long term management plan.
UPDATE: 28 MAY 2019
Council urgently seeks further funding for Fox River clean-up
Westland District Council has advised the Government that the operation to remove rubbish resulting from the wash-out of the disused Fox River landfill will cost a minimum of an extra $750,000. This is on top of money already spent on the post-flood clean-up and reinstatement of district roads, and will leave Westland District Council $1.1million out of pocket.
In a briefing paper to relevant Government Ministers last week, the council said it could be forced to suspend all recovery operations from Friday this week (31 May) unless more funding is available.
Mayor Bruce Smith said that while the council deeply appreciated the $300,000 already given by Government to the council to fund the clean-up, it simply did not go far enough.
"The areas most affected by the landfill washout are Department of Conservation (DOC) land," Smith noted. Overall, DOC land comprises 86 per cent of the Westland district.
"This area is part of a World Heritage site - a major tourism asset that brings considerable financial benefit to all of New Zealand. With a very small ratepayer base of only 6,500 households, we cannot financially sustain this clean-up operation, even with the assistance Government has already provided."
Smith said the Council has requested  that Government consider every option for further financial assistance, or, alternatively, that a Government agency/department take the lead and the financial responsibility for the remainder of the Fox River Clean-up Recovery Operation.
"The Westland District Council continues to experience financial hardship due to the immense cost of the recovery from the March floods," Mayor Smith said. "The impact of committed unbudgeted expenditure for Recovery Operations, as of 20 May 2019, equates to a 13% rate increase. Our ratepayers simply cannot afford that."
Smith said that as part of a briefing last week, council instructed management to:
Make a further approach to Central Government to identify any remaining avenues for financial support from Government agencies or departments;
Request that a Government agency or department take the lead, and financial responsibility for the remainder of the Fox River Clean-up Recovery Operation; and that
Council suspend any further Recovery Operation (from close of business Friday 31 May) until the outcome of the above options above are known.
"While we might have to suspend ground operations in the absence of required funding," Smith said, "council personnel will continue to work with the Department of Conservation to progress development of short, medium, and long term plans, and environmental monitoring requirements, plus identify projected costs to meet tactical objectives."
Smith accepted that the council has a moral and legal responsibility to continue with the clean-up of the Fox River and coastal beaches. However, he says there was a gap between requirements upon the council and its ability to deliver due to the magnitude of the clean-up and the small ratepayer base expected to pay for it. 
"This crisis results from rubbish disposal practices and a lack of environmental awareness that applied more than 40 years ago. Demanding that council accept the greater cost of this recovery ignores the fact that it is simply beyond our means to do so," he said."
UPDATE: 17 MAY 2019
Applications open for Westland District Mayoral Relief Fund
People and businesses in the Westland District severely affected by March 2019 floods and related weather impacts can now apply for assistance from the Mayoral Relief Fund.
The fund, which includes a $75,000 contribution from the Government, provides assistance on a one-off basis for extraordinary circumstances, where real need can be shown.
Mayor Bruce Smith said the fund is open to Westland District residents, ratepayers, business owners and not-for-profit organisations that have suffered financial or emotional hardship as a result of the weather event that began on 26th March 2019.
"Priority will be given to those who are, or were, a permanent resident (owner/occupier or occupier), ratepayer, or owner of a business located in Westland District at the time of the March event," Smith said. He added that business applicants need to show they were financially viable before the event and have suffered a "significant drop in income" caused directly by the March storm.
"I am very pleased that the Council can offer this support," Smith said.  "We will do everything we can to help those who have suffered genuine disadvantage. All applications will be treated with compassion and considered very carefully. However I do need to emphasise that the fund is a last resort measure when people have exhausted other appropriate sources, such as Work and Income New Zealand (WINZ), the Rural Support Trust, EQC, and other government agencies."
Application forms are available on-line at https://www.westlanddc.govt.nz/mayoral-relief-fund. Completed forms can be emailed to MayoralReliefFund@westlanddc.govt.nz or dropped in to the service centre. Applications close Friday 21 June.
Any person or organisation wishing to make a donation to the Mayoral Relief Fund may deposit funds into the Westland District Council bank account 030850 00110046 0000. If making a donation please use the reference 1100183 Mayoral Relief Fund.
UPDATE: 13 May 2019
Fox River clean up teams recover five tonnes of rubbish.
More than five tonnes of rubbish has been cleared from Fox and Cook Rivers, wetlands and beaches between 30 April and 7 May, the Westland District Council reported today.
The clean-up, from the March floods wash-out of the former Fox River landfill, continues with support from local authorities, DoC, and government departments; along with local businesses, residents, land owners and volunteers.
"The effort the teams are putting in is extraordinary, said Te Aroha Cook, Westland District Council Recovery Manager, who is helping coordinate the clean-up.
"Some of these people worked eight days in a row," she said. "We had to ensure everyone took a break for their own health and safety. Some people just want to keep going. To put their work in perspective, five tonnes of rubbish is the weight of the 465 individual rubbish bags collected."
Cook says Okarito locals deserve special praise for their dedication to clearing rubbish from Five Mile, Three Mile and Okarito beaches. "People just keep going back, as fresh tides and high rivers bring more rubbish in."
While the rubbish removal continues, the Westland District Council, along with the Department of Conservation and other authorities, is working on a long-term plan for the recovery of the area. This follows the 3 May Government announcement of $400,000 in funding toward recovery from the March floods, including $300,000 for rubbish clearance.
"The scale of the job in front of us is huge," Cook says. "On Saturday 4 May, some of the team walked up the Fox River and were overwhelmed by what they saw still had to be done. But everyone was heartened by the real difference the clean-up is making in those areas that have already received attention."
Cook says the clean-up project is particularly seeking volunteers who have the skills and experience needed to work in the challenging, and potentially risky, in-river environment.
"It is very hard work clearing rubbish from the tangled flood debris of boulders, washed out trees, and so on. They need to be fit, confident to work in a challenging environment and constantly retain a safety awareness within the river bed. They also need to have appropriate clothing and PPE gear."
"All volunteers are urged to register with foxlandfillresponse@westlanddc.govt.nz. Even if someone just wants to wander along a beach picking up rubbish, it is preferable they are part of an organised team. We really need to know they are there for safety reasons, and so we can arrange to uplift any bags of rubbish they collect."
UPDATE: 3 May 2019
Government funding for Fox Landfill clean-up and flood recovery welcomed.
The Westland District Council has today welcomed an injection of $400,000 from the Government to support recovery from the March floods, including cleaning up rubbish from river-beds and coastline after the wash-out of the long-closed Fox River landfill.
"The support from the Ministers for Environment, Civil Defence, Agriculture and Rural Communities and Conservation will make all the difference to the recovery programme," says Mayor Bruce Smith. "The Westland District community will welcome this support. We were really struggling to see how we could fund such a large and ongoing recovery programme with our small ratepayer base, especially with most of the clean-up needing to occur within the conservation estate, a significant environmental and tourism resource with value far beyond the immediate boundaries of our district."
The Government's additional contribution of $400,000 includes:
$200,000 from the Department of Conservation to support rubbish clean-up from the Fox River landfill.
$100,000 from the Ministry for the Environment's Contaminated Sites Remediation Fund, for river clean-up.
$75,000 contribution to the Mayoral Relief Fund
$30,000 for Rural Support Trusts.
"The Government has clearly recognised that the situation cannot be resolved with the resources of the district alone," Mayor Smith says. "Despite the tireless work of many dedicated volunteers and the collective efforts of West Coast-based government, business and community groups, the dangerous rubbish is continuing to enter the river and wash up on once pristine West Coast beaches, from south of Fox Glacier to Okarito North beach. With each new flood or heavy sea, more rubbish is revealed. Our key message to the Government was that this was not going to be a short term recovery effort."
Smith says the recovery team will meet with Department of Conservation representatives to identify priorities for the clean-up and the best way to manage the resources contributed by the various ministries.
"A webpage will be set up with criteria for the Mayoral Relief Fund, along with an application form. This will be available next week," Smith added.
UPDATE: 18 April 2019
Fox River/World Heritage Area clean-up programme extended while critical search for funds continues
The Westland District Council confirmed today that it will continue to support response and recovery operations for the clearance of rubbish from the Fox and Cook Rivers and South Westland beaches for another two weeks, while it investigates options to fund the massive clean-up that will be required for several more months.
At a meeting today the Council considered a report on the future options for managing the ongoing environmental impact of the record-level 26 March floods entering a long disused Fox Glacier landfill. Rubbish was washed downriver, out to sea and washed back along West Coast beaches from a point about 10km south of the Cook river, to 50km northward.  Much of the impacted area is within the UNESCO World Heritage area.  
Mayor Bruce Smith said the report makes it clear that Westland District's 6500 ratepayers simply cannot afford to continue to fund the clean-up indefinitely.
"This is a disaster of national scale," Smith said. "The area impacted is a major environmental taonga and tourist attraction. It has enormous economic, cultural and natural value for the whole of New Zealand. We will need all of New Zealand's help to get it back to the pristine condition it once was.
A huge recovery programme involving national agencies, local government, contractors and volunteers has already cleaned up tonnes of rubbish, but Smith said the job is far from completed.
"We are extremely grateful for the help we have received from government and local government agencies and personnel, local business and dozens of volunteers.  
"However, what this report makes clear is that there is still a lot of work to do. A lot of the rubbish is in sites too dangerous for volunteer teams, or where specialist equipment is required. We will need professional contractors for that. Also, we now know there is a huge amount of rubbish buried in the riverbeds that normal seasonal floods will continue to wash out into the river, sea and beaches, potentially for months to come."
Smith said Westland District Council has sought central government advice on where it might access alternative funding for the ongoing clean-up.
"I am very encouraged to hear today from Hon David Carter, Minister for the Environment, that the Government 'stands ready to help'. I look forward to hearing what that might entail. We have very few ratepayers to fund activity in a massive landscape that is 80% conservation land. We simply cannot afford to continue to be the primary funder of this recovery effort."
ENDS
UPDATE: 17 April:
After three weeks of intense clean up efforts collecting rubbish spread along some South Westland coastline following a severe flood event which affected the disused Fox Landfill, the operations are winding down for the Easter break.
Numerous volunteers, government agencies and local businesses have supported the response which have been based out of Franz Josef.
New operational plans will be implemented in the coming week and options for earthmoving machinery, contractor involvement, waste sorting and disposal will be in place when the operation resumes.
Intelligence for the response and future strategic planning has been gathered through a number of sources and information received from spatial visualisations along with feedback from field operations have produced a robust GIS picture of areas that have been cleaned and identified waypoints for fadge collection.
Local Recovery Manager, Te Aroha Cook said "It is recommended the public don't attempt to collect any rubbish from the beaches or the river bed over this period. There are numerous hazards amongst the rubbish and the health and safety of all trained staff and volunteers has been the top priority since clean-up began. 
There is a risk of injury if correct personal protective equipment isn't worn and while we acknowledged there will be well meaning members of the community wanting to assist the clean-up in their own time, we urge people to register their interest to volunteer after the holidays by emailing foxlandfillresponse@westlanddc.govt.nz and someone will be in touch for further details once we reconvene operations."
UPDATE: 16 April:
Clean up work of rubbish that spread onto some coastline and river from the disused Fox landfill has continued this week with 45 fadges, two fridges and an oven being removed from impacted coastlines to staging areas.
Over 140 helicopter flights utilising operators from the Fox and Franz area, have transported 255 people to remote beaches, provided reconnaissance opportunities for response staff to gather intelligence and remove collected rubbish. 
Approximately 150 volunteers have been involved in the clean-up to date, with many other offers of assistance coming through to the operations centre. Mike Bilodeau, volunteer coordinator said "this week, our teams have really been targeting Waiho Beach, the area near Waitapi Creek, and both sides of the Fox/Cook River mouth. It's incredible how happy everyone comes back after working away at such a heart breaking task. It must be a mix of being outside in a beautiful area, and doing something good for the environment. Our volunteers bring us back important information and intelligence at the end of each day. They also come back with lot of ideas about the rubbish problem, both locally and worldwide. It's great to hear what they have to say and see how passionate they all are".
Many other agencies are working closely together to lead the clean-up operation ensuring it is run safely, implementing operational plans, and analysing long-term options.
Department of Conservation staff have been focussed in the upper reaches of the Fox River area. The department has provided staff from around the South Island and they, along with local teams, are collecting large amounts of rubbish as they work their way down the river flats.
Operational team members and volunteers will have a well-earned break over the Easter weekend with action plans being reviewed for the following week.
"Encouraging time off to all those who have been actively involved in this response and recovery, will provide everyone an opportunity to rest and spend quality time with their families" said Te Aroha Cook, Local Recovery Manager. "Many people and businesses have been committed to the clean up over a number of weeks and the upcoming holidays will be a welcomed time for many. The Westland District Council are immensely grateful to our partner agencies, volunteers and all others who are contributing to this operation," she said.
Further updates are available on the South Westland Coastal Clean-up Facebook page https://www.facebook.com/southwestlandcoastalcleanup/ and Westland District Councils website https://www.westlanddc.govt.nz/
UPDATE 15 April:
Waiho Bridge reopening increases access for Fox landfill clean-up team
The Fox River landfill clean-up is expected to make good progress this week, following the opening of the Waiho Bridge, which means volunteers can use vehicles to access remote locations, rather than relying on helicopter transport.
The Westland District Council will continue to use helicopters to transport teams to areas inaccessible by 4WD vehicles until Wednesday and for ongoing aerial surveys throughout the response.
During the weekend, a team of volunteers completed a survey of the Fox River and Cook River. This survey extended 20 kilometres, from the old Fox landfill to the Tasman Sea.
The survey mapped areas of importance for rubbish recovery in the coming weeks. It provides accurate coordinates to teams to locate waste more readily. The survey also helped the Council confirm completed areas and where to collect bulk bags of waste from the clean-up, as well as providing a visual assessment for third parties to review.
This week, volunteers and the Department of Conservation (DOC) crews will access sites using 4WD vehicles. The Council is trying to source appropriate vehicles from other supporting agencies and businesses.
"We have made significant progress in the clean-up in the past week. The aerial footage will assist significantly in efforts this week as we can pinpoint locations and determine the best route for access," says Local Recovery Manager, Te Aroha Cook. 
"During the weekend, our volunteer teams worked on cleaning-up Sandfly Beach, Saltwater Bay to 700m up the lagoon, Fox Cook River Mouth – South, Waitapi Creek, and Fox Cook River Mouth – North.
"It is estimated that volunteers have collected 37 large bags of rubbish so far."
Volunteers are collecting rubbish that spread onto beaches and rivers when severe flooding breached an old Fox River landfill nearly three weeks ago.
Further updates are available on the South Westland Coastal Clean-up Facebook page https://www.facebook.com/southwestlandcoastalcleanup/ and Westland District Council's website https://www.westlanddc.govt.nz/.
UPDATE:11 April
The combined efforts and goodwill of volunteers and government departments continue to make good progress in the clean-up of the rubbish washed up from a disused landfill nearly 2 weeks ago following flooding of the Fox River in South Westland.
A Department of Conservation representative said over 25 DoC staff from throughout the South Island are in the area, with specialist teams preparing to stay overnight in huts over the coming days to minimise fly in time and along with Landcorp, have made 4x4 vehicles available for use to trained response staff.
A collaboration between Department of Conservation and Wildbase Wildlife response team, Massey University has seen the development of a wildlife response plan to support the long term recovery. Louise Chilvers of Wildbase said "to date there has been no reports of wildlife impacted which is absolutely fantastic however it is important that this continues to be monitored". If a member of the public finds any wildlife that may appear to have been affected, please call the Department of Conservation on 0800 362 468 (DOC HOT)
Maritime New Zealand have 5 National Response team members in Franz Josef assisting the process. These people would normally be leading teams dealing with maritime incidents and marine oil spills.  Their specialist skills are assisting the smooth running of the response.
Mike Bilodeau, an Okarito local, started reaching out for volunteers when rubbish started showing up on the beach, and has been inundated with offers of help ever since. "We have had people contact us from all over the country, people who saw what was happening along our beautiful coastline and just wanted to lend a hand". Volunteers will continue their work over the next week and we are grateful for the support.  If you wish to volunteer, please email foxlandfillresponse@westlanddc.govt.nz providing each person's full name and email address along with your current location or either north or south of the Waiho River advising availability by 3.00pm the previous day.
Westland District Council, Local Recovery Manager, Te Aroha Cook has been impressed with those supporting the clean up. "The continued work of volunteers, local operators and partner agencies has illustrated once again that while the West Coast region may bear the brunt of many weather events, we have capable communities and support is provided from around New Zealand to enable a timely response and recovery"
Further updates are available on the South Westland Coastal Clean-up Facebook page https://www.facebook.com/southwestlandcoastalcleanup/
UPDATE: 10 April
Great progress is being made by volunteers and specialist teams cleaning up rubbish, washed up from a disused landfill that is now in the Fox River.
Volunteers have concentrated on clearing rubbish from readily accessible parts of rivers and beaches, while specialist teams focus on harder-to-reach sites, including areas considered too difficult or dangerous for volunteers.
On 9 April, volunteer teams were taken by helicopter to clean up the Karangarua River mouth, Cook River mouth, Gillespies Beach, Five Mile Beach, Three Mile Beach and North Spit Okarito. Most of the rubbish removed has been plastic bags, plastic bottles and glass bottles. Specialist teams will deploy to Five Mile Beach to continue waste removal on Thursday.
Landowners are supporting the clean-up initiative by enabling access through their properties to river and beach sites.
Specialist teams are undertaking river flat clearing because this may require the use of chainsaws to cut into driftwood piles before any rubbish is removed. Endangered native broom at sites will be identified and protected while the clean-up continues.
Drones are being used to identify and guide response teams into debris locations.
People who wish to be considered for the clean-up must contact foxlandfillresponse@westlanddc.govt.nz  with dates they are available and any relevant specialist skills they have. Volunteers will need to bring adequate food and suitable clothing and footwear, as well as sunscreen and insect repellent.
Updates are available on the South Westland Coastal Clean-up Facebook page https://www.facebook.com/southwestlandcoastalcleanup/
UPDATE: 8 April
Work is being undertaken to protect the closed landfill, lining the eroded area with geo cloth and filling in the bank area with rock from the river. A coordinated response to the cleanup is underway with a contractor employed to remove rubbish from the environment, in conjunction with the Department of Conservation who are assisting with the provision of staff and equipment.
Centralised dumping places have been established at Okarito, Fox Glacier and Franz Josef for volunteers to dump rubbish collected from along the coastline beaches and river area. Volunteers are asked to continue to check the South Westland Coastal Cleanup Facebook page for updates and information.
A massive effort from volunteers over the weekend of 6-7 April has cleared significant amounts of rubbish from the area just north and south of the Fox River in South Westland.
"The initial clean-up of this area is now almost complete," says Westland District Mayor Bruce Smith. "It's a good start, however we've still got a big job ahead of us".
While there is still a lot of work to, Bruce Smith says the scale of the rubbish dispersal from the flooded Fox River site is smaller than originally reported.
"Initial reports suggested rubbish from the Fox River Landfill was very widespread. However, aerial surveys during the last couple of days have confirmed the area affected is confined to about 50km of coastline, from approximately 10km south of the Fox River northward."
The Mayor said reports of rubbish on Fiordland beaches have been investigated and confirmed as not from the old Fox River landfill. "It is from a different source," he said.
Westland District Council is being supported in the clean-up, with a specialist incident team from Maritime New Zealand now coordinating the response. There is also continued support from the Bay of Plenty Regional Council, Department of Conservation, specialists from the Ministry for the Environment and the West Coast Regional Council.
The Fox River and surrounds have been identified as the worst effected, with heavy items lodged in-river and through the bush and land surrounding it. The clean-up of the mid and upper stretches of the river has been identified as too hazardous for volunteers to help with. Teams of people familiar with the difficult conditions on the river and able to use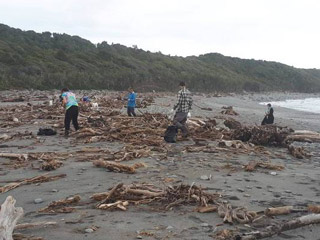 specialised equipment will clear the rubbish in these areas. Ground access to areas of coastline is being organised with landholder. Access ways will be made safe for people to use in order to reach the beaches.
As well as volunteers assisting with the clean-up, the local business community has put its weight behind the clean-up, with staff time, accommodation and food being provided for volunteers and clean-up teams.
"It's great to see everyone mucking in to help us restore our wonderful natural environment" says Bruce Smith. People who want to help with the clean-up should contact
foxlandfillresponse@westlanddc.govt.nz
with the dates they are available and any specialised skills they might have. Volunteers will need to ensure they bring adequate food and suitable clothing and footwear as well as sunscreen and insect repellent. Updates are available on the South Westland Coastal Clean-up Facebook page
https://www.facebook.com/southwestlandcoastalcleanup/