Westland District is located on the West Coast of the South Island of New Zealand. The District includes the former Hokitika Borough and Westland County. The geographical extent of the District is shown here: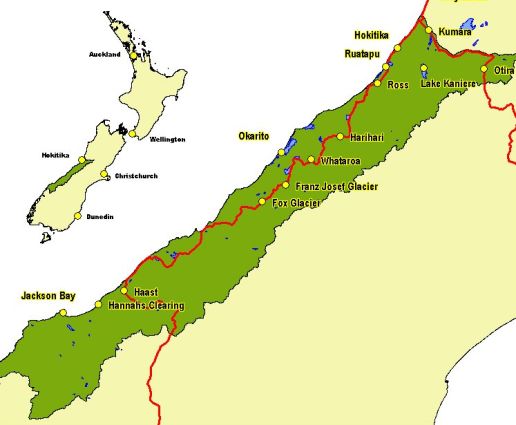 The land area of Westland District comprises approximately 11,400 km² (1,198,000 hectares). The District stretches for 440 kilometres from the Taramakau River in the north to Big Bay in the south. The western boundary is mean low water springs (MLWS) on the Tasman Coast and includes Open Bay Islands and Hanata Island. The eastern limit is a line running along the Main Divide of the Southern Alps/Ka Tirititi o te Moana.
The District has common boundaries with Grey, Selwyn, Hurunui, Ashburton, Mackenzie, Waitaki, Queenstown-Lakes and Southland Districts and comes within the jurisdiction of the West Coast Regional Council.
Population
The population of the District stands at 8207 (usual resident) of which 2964 live in the Hokitika urban area. Other significant settlements include Fox Glacier, Franz Josef Glacier/Waiau, Whataroa, Ross, Harihari and Kumara. The potential for growth associated with the tourist and mining industries cannot be overlooked. Any resultant increase in population will have a positive influence on community viability and associated services.