Background
Council conducts citizenship ceremonies on behalf of the Department of Internal Affairs for the presentation of citizenship.
Information on the application process can be found at the Govt.nz website.
Successful applicants for the grant of New Zealand citizenship are required to attend a public citizenship ceremony. At the ceremony applicants stand before an official person and take the Oath or Affirmation of Allegiance, declaring that they will honour HM Queen Elizabeth the Second, Queen of New Zealand, obey the laws of New Zealand and be a good citizen. It is only after swearing allegiance that a person actually becomes a New Zealand citizen, and will be presented with a citizenship certificate.
Attending a public ceremony is a very important step in the process of becoming a New Zealand citizen. It is an opportunity for you to publicly declare your allegiance to New Zealand and for the local community to welcome you on behalf of all New Zealanders. At the Westland District Council, citizenship ceremonies are randomly held. Please contact the CE's Department at council@westlanddc.govt.nz to find out the next ceremony date. The applicant swears an Oath or Affirmation of Allegiance in the presence of the Mayor.
Citizenship Ceremony – July 2017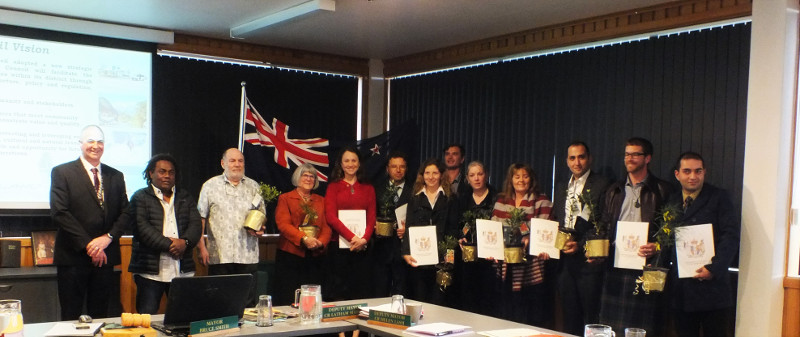 For more information contact the Council.