Mon, 11/02/2020 - 17:07 —

emmar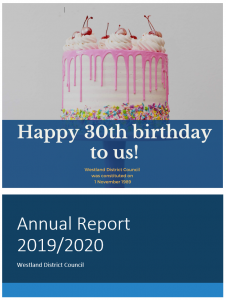 2 November 2020
At an early morning meeting this morning, Council adopted the Annual Report 2019/2020. 
This is the Annual Report against Year 2 of the Long Term Plan.
Council reports a surplus of $3.428 million before other comprehensive revenue and expense, which is $2.36 million favourable to budget. The variance includes the following items:
Subsidies were $3.1 million above budget. Council received unbudgeted grants during the year for infrastructure projects throughout the region.
Other revenue was $2.3 million higher than budgeted largely due to vested assets income which was $1.5 million above budget due to assets transferred from Westland Racing Club. Council also received unbudgeted funds of $0.050 million from the National Emergency Management Agency following the December 2019 flood event.
Other expenses were also higher than planned by $1.6m mainly due to roading repair and maintenance work and contractor's cost due to flood and storm events.
Depreciation and amortization cost was also higher than planned by $0.8m due to 2019/2020 actual depreciation was calculated using 2018/2019 revalued asset values, which were not available when depreciation budgets were set up for the 2019/2020 Annual Plan.
These higher than planned expenses ($2.4m) partially offset the favourable budget variance in revenue ($4.7m) which resulted in a favourable budget variance of $2.3 in surplus.
Cash and cash equivalents were higher than budget by $2.6 million due to lower capital spending because of rescoping of projects and better asset knowledge.
Non-current liabilities are $6.9 million lower than budget mainly due to lower than planned debt. Total debt for current and non-current liabilities is collectively $4.7 million lower than budget. This is due to loan-funded capital expenditure being deferred or rescoped through the Annual Plan process to the following year.
The audit opinion is unqualified however there is a matter of emphasis to note COVID-19. This matter of emphasis is included for all New Zealand Councils this year. 
Read the full Annual Report 2019/2020 here.
Summary:
2019/2020 Annual Report adopted