Wed, 01/22/2020 - 12:20 —

emmar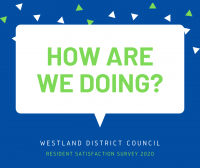 Westland District 2020 Resident Satisfaction Survey happening soon!
The bi-annual Resident Satisfaction Survey will be conducted for Council by National Research Bureau between 24 January and 9 February 2020.
Researchers will be calling phones over this period, and you may encounter them out and about in the district doing face-to-face interviews.